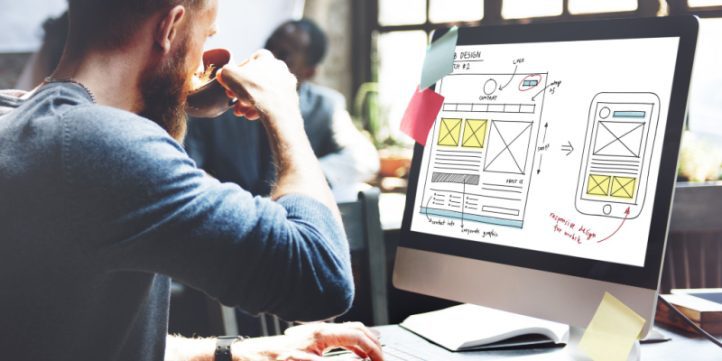 Websites have been used since 1991, when the first one was published. Gradually, they have grown exponentially both in size and use. Today, companies use the internet and websites as part of their retail framework. E-Commerce is an indispensable part of today's trade.
As a business, you may want to take advantage of the 63.1% of the population using the internet and have them buy your products online. But to run a seamless e-commerce platform, you must have a functional website that's professionally made. Remember, your website is your best sales agent, and how well you present it determines your customer turnover. A poorly functioning website means you lose potential customers and sales.
However, creating a good website can be very expensive and cost more than you imagine. Luckily, you can reduce the enormous price tag of website development and design using the following tips:
Choose cheaper domain extensions
The first step in developing a website is getting a suitable domain name. In 2022, the top-level domains had about 5.05 million registrations. Fundamentally, top-level domain refers to the rightmost characters in a website name after the full stop. Popular domain extensions like .com generally cost more than other extensions like .org, .net, or .co.
More than 50% of websites on the internet use the .com extension. Such popularity makes it more expensive. However, it's not absolutely a must to use it. You can still use cheaper domain extensions and attract significant traffic to your site.
Shop around for affordable designers
There are various web designers in the market with different prices and services. The average cost of building a website with a freelancer or agency ranges from USD$12,000 to USD$150,000, and using a website builder is USD$0 to USD$500 per month. With such flexibility in price range, you should shop around for a web designer who fits your set budget.
Also, you should look out for companies offering web design and development discount codes at DontPayFull.com. The offers come with add-ons like a year plan and many more that you should take advantage of. With the discounts, you can be able to cut the overall cost of building your website.
Also worth noting is the fact that web designers charge based on the number of pages you want. Writing the content, fixing images, and developing the template for each page determines the price. The fewer the pages, the cheaper you'll pay. While finding an affordable designer, ensure your web pages are minimal.
However, you shouldn't minimize the number too much. Ensure you include all the essential pages, such as the home, product, blog, and pricing, which communicate the value of the organization. But as your business grows and you get more money, you can include more pages like FAQs, careers, and news.
Compare web hosting packages
Web hosting packages differ depending on the company. You must carefully choose your web hosting company to avoid unnecessary expenses. While focusing on the price, you shouldn't forget the needs of your website. Compare the hosting packages and pick one that's cost-effective but still has great server reliability, enough bandwidth, good uptime scores, security, and other important features that matter to you. The average cost of a web hosting service differs based on the type.
Shared hosting should cost between USD$2.51 per month at the entry level and USD$4.62 for a mid-tier option. For a virtual private server, you should expect prices between USD$20 to USD$100 per month. A dedicated hosting that gives you complete control of the server starts at USD$100 per month. These are only average figures; they vary considerably from company to company. So, you may want to shop around for the best deals.
Furthermore, you can get a cheaper deal by choosing long-term hosting plans like the annual ones instead of the monthly deals.
Use existing website templates
Instead of building your website from scratch, which is expensive, you can save money using a template. With templates, all you get is the basic structure of the website then you can modify it to fit the required features of your company. Also, there are thousands of options to choose from.
Website templates are cost-effective in many ways: the initial cost of buying the template itself is low, and the development process is cheap because all you do is add the generic features. Also, you spend less time on design and development.
Other benefits you get by using templates include:
It's easy to set up and deploy.
You have thousands of choices to pick from.
You receive reliable updates and support.
Templates have built-in functionalities that help you save time and money in website management.
Overall, the cost-effectiveness of templates is why you should use them in web design and development.
Use free photographs
Most businesses pay for the images they use on their websites because of the clean and professional look they're after. However, this isn't a cost-effective option if you're trying to reduce the cost of website design and development. Instead, you may consider repurposing existing images you own. Ensure they fit in with your brand, tone, and are high quality. Otherwise, you can use free online images from reliable sites. Just be careful with the image choice so your content doesn't look so generic.
Remember, you can get cheaper expertise by utilizing your in-house employees. You probably have photographers and designers among your workforce. Instead of outsourcing every task and paying extra, consider involving your current team in various stages of development.
Your photographers can help with image sourcing, the developers can build the website, and you can have a cheap website testing session using your other staff. Not only will this be cost-effective, but your website development will take a shorter time and be error-free.
Conclusion
Building a website for your business is a great step towards success. However, this shouldn't cost you your profits and cripple the business. Luckily, there are tricks and tips you can use to save money, as outlined above. The ideas are easy to implement for any business and budget, and they ensure you still get a quality product at a cost-effective price.